Photography for skeyes 2019 Annual Report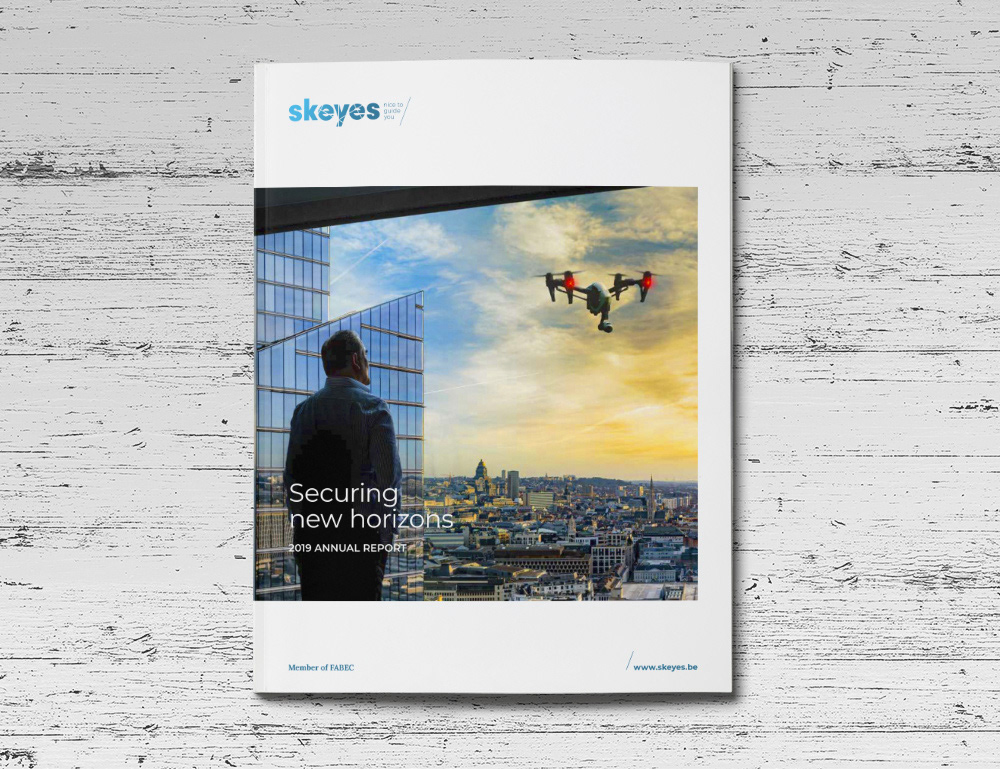 skeyes is an autonomous public company in charge of the safety of air traffic in the civil airspace for which the Belgian State is responsible. 
For its 2019 annual report, skeyes commissioned
an original photo to illustrate the strategic and growing importance of drones
. This is a sector already being safely integrated into existing air traffic thanks to a skeyes initiative that ensures drone pilots are kept up to date where it is safe to fly and what rules apply. skeyes also offers
drone fleet management
and will soon make it possible for commercial drone pilots to obtain specific flight approval via a digital portal.
The challenges in setting up the photo shoot at the height of the Covid-19 crisis were
: 
–

to find an office

high enough so we could obtain a panoramic view of several Brussels landmarks
–

to be nearby other attractive buildings
– to take the photo

at sunset
, in keeping with skeyes' graphic charter for photos with a warm tone.
As the country started to apply strict anti-coronavirus sanitary measures, the fact that I could manage...
– to find the perfect location
– to rely on incredibly kind and helpful people at the European Commission (all sanitary measures were followed)
– to receive clearance unexpectedly just a few hours before complete lockdown of all premises for several months
– to take the photo within a very tight timeslot dictated by the sunset itself 
... was nothing short of a miracle.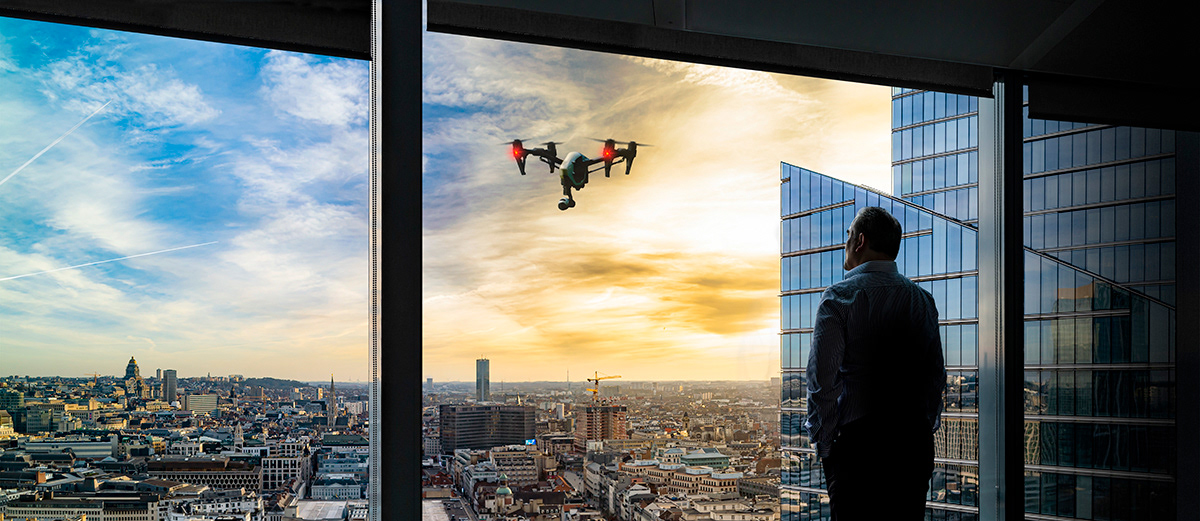 You may wonder how much of this photo matches reality. Certainly, we were lucky with the weather and timing: it had been wet and cloudy during the weeks leading up to the shoot, and the day after we would not even have been allowed to enter the building. Other than the drone, however, everything in the photo is genuine: the colour of the sky, both planes and their contrails, the yellow/orange tone of the clouds, the warm colour over the skyline, and even the perfect blue tone of the nearby building.
Following skeyes' briefing and art direction from Damien Walckiers, the shoot was achieved in less than an hour. We knew exactly what we wanted to do thanks to solid preparation.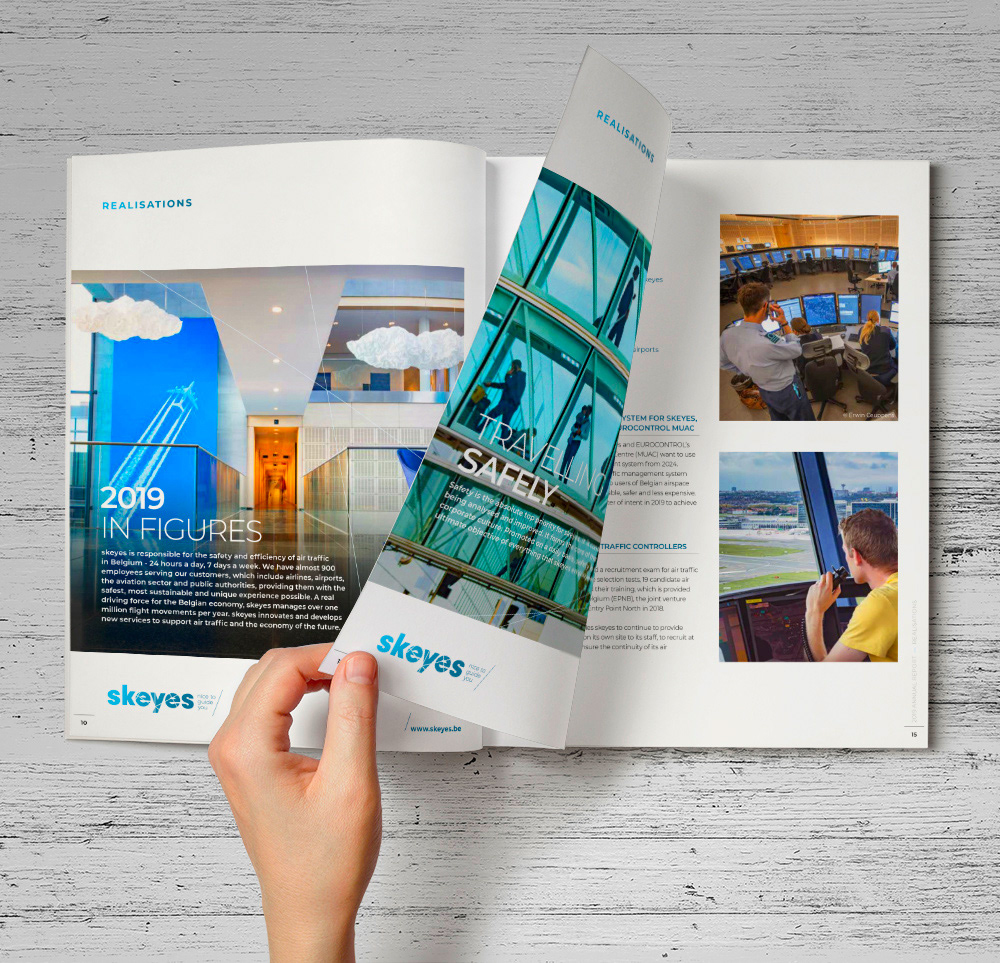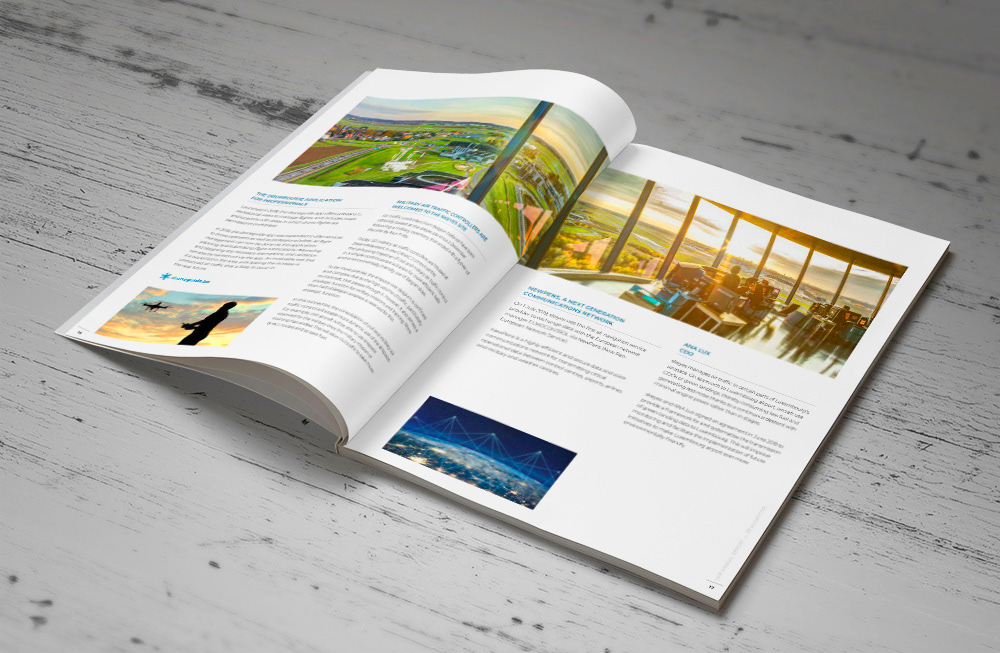 The skeyes 2019 Annual Report
,
which contains 10 of the photos that I made for the 
autonomous public company
,
 is available
as a beautiful
online presentation
as well as an equally superb printed publication/
PDF
, both produced by
The Crew
.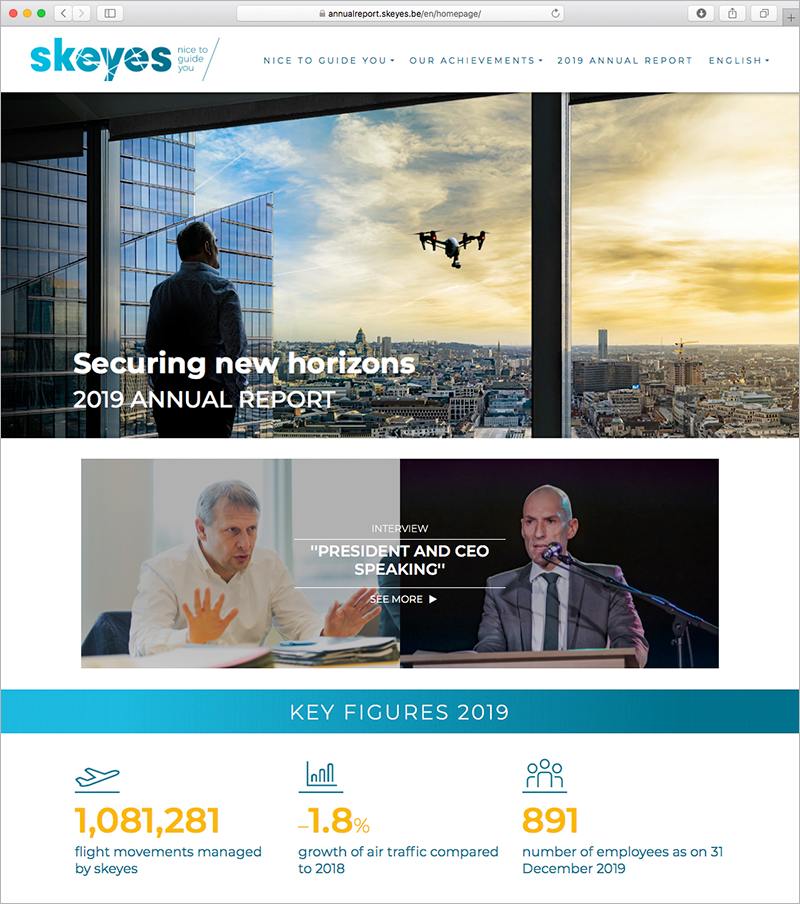 Location scouting, Photography, Composition:
Branislav Milić (skeyes' freelance corporate photographer)
Art direction at The Crew:
Damien Walckiers
Project Management at The Crew:

Dora Mariage
Design and Layout:
Thomas Steinbach
Project Management at skeyes:
Gilles Gallemaers